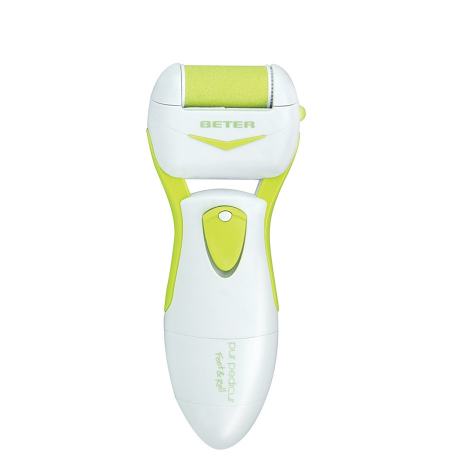 View larger
Feet&Roll Electronic file callous remover
The electronic file created to smooth dry, rough and callous skin on the feet. An innovated device with a Unique Rollers grinding head made of microparticles "Quarz Sand", to genlly and effectively buff away hard, jagged skin on the heels.
Warning: Last items in stock!
Availability date:
More info
Feet & Roll is designed for smoothing coarse skin on the feet and heels. Do not use this device anywhere else on the body.
- Wash and clean the skin and dry fully.Make sure the Rollers Grinding Head is placed into the unit.
- Remove the protective cover from the unit and it is ready to use.
-Turn on the unit by pressing the safety switch Sock, in the center of the On/Off switch, and at the same time push the switch up.
-Gently rotate back and forth of side to side the callous/corn/hard skin area for 2-3 seconds. Do not press hard. The unit will stop if it is press too hard on the skin. Stop and check if you have achieved the softness you desire. If not, go over the area for 2-3 more seconds and check again. Continue to use this method until the level of smoothness is obtained.
Battery lnstallation:
• Remove the battery cover (Battery cover lock piece) by tuming it 90 degrees to the left until it clicks into place and then pull it down.
• Insert 2 x AA alkaline batteries in the battery compartment following the battery direction sign (Fig.2) as imprinted on the back of the unit.
•Glose the battery cover by tuming it 90 degrees to the right until the cover clicks into place and locks
Reviews
No customer reviews for the moment.