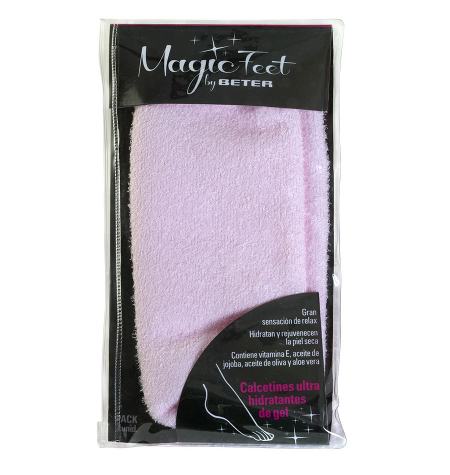 View larger
Magic Feet & Hands ultra moisturizing gel socks
These socks give your feet a special treat, moisturizing, relaxing and rejuvenating skin that is dry and rough or has calluses. At the same time, they prevent irritation caused by rubbing or pressure by shoes. Their healing effect can be boosted by also applying your usual cream, lotion or oil.

Warning: Last items in stock!
Availability date:
More info
Instructions for use:
- Wash and dry feet well before use
- Keep feet in the socks for a maximum of 30 to 50 minutes. It is recommendable to use the socks between three and five times a week.
- When extreme dryness occurs, also apply the usual foot moisturizing cream

Maintenance
- Hand wash with a neutral detergent at a temperature below 30º
- Do not use bleach. Avoid dry clearing.
- Dry in the shade, avoid exposure to the sun.
- Spread a thin layer of talc powder over the gel coating and store the product without folding.

Warnings
- Do not use on an open wound. In the case of skin problems, such as psoriasis or eczema,consult a doctor first.
- After continuous use of 4 or 5 months, the nourishing properties of the gel diminish and it is recommendable to replace the socks with new ones.
- Do not remove the gel from inside the socks.