Reduced price!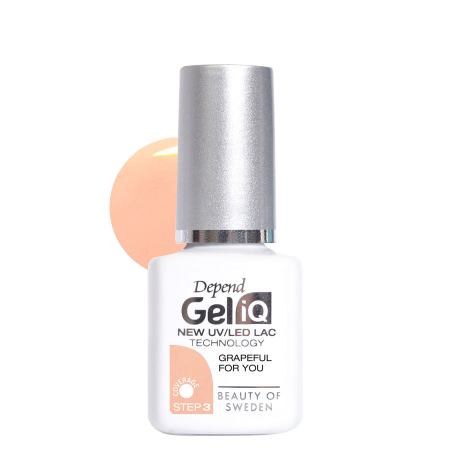 View larger
Depend Gel iQ Colour- Grapeful for you
Apply, harden, done! Super shiny. Extremely durable. Easy removal. The third step of the Depend Gel iQ system. New improved formula free of HEMA and Di-HEMA: more respectful to nails and skin. High coverage semi-permanent polish, its new formula together with the brush design guarantees precise coverage of the entire nail. Product not included in the Depend Gel iQ Start kit.
This product is no longer in stock
Warning: Last items in stock!
Availability date:
More info
The UV/Led lamp and all products included in the Gel iQ Start kit are required to apply the semi-permanent gel manicure. Gel iQ is also excellent for the toenails, the treatment is performed in the same way as on the fingernails. Read through and follow all the instructions for use and the safety information carefully, and have everything you need to hand before you start the treatment.
Gel iQ benefits:
1- NO PREP means you do not have to prepare your natural nails by buffing them or applying a strong primer, which can affect the condition of your nails and should therefore be avoided. Gel iQ requires only light cleaning with a mild Pre-Cleanser prior to applying the gel products.
2- The UV/LED lamp has been specially developed and has a curing time of 30 seconds for each stage of gel application. The symbiosis between lamp and gel produces an evening-out effect, where any ridges disappear during curing, even if the gel has not been applied evenly. Once the top coat has been cured under the lamp, all you have to do is clean your nails with High Shine Cleanser, which produces a fantastic shine and intense colour. The gel is now cured and dry, can be touched and will withstand knocks.
3- Gel iQ produces long-lasting results, with up to 14 days' wear.
4- The removal process for Gel iQ is unique and also gentle on natural nails, as it requires only a special vegetable oil and warm water soak. In some instances, for example if you have extremely dry nails, a stronger remover product may be required.
Ingredients
Bis-Hea Poly(1,4-Butanediol)-9/Ipdi Copolymer Hydroxypropyl Methacrylate Bis(Glycidoxyphenyl) Propane / Bisaminomethylnorbornane Copolymer Ethyl Trimethylbenzoyl Phenylphosphinate Silica CI 77891 Bht CI 77002 CI 45380 CI 47005 CI 45410 CI 47000