Is your mum a total fan of everything related to beauty? Mother's Day is just around the corner and Beter wants to make it easy for you to surprise her with something special. Here are some ideas for you.J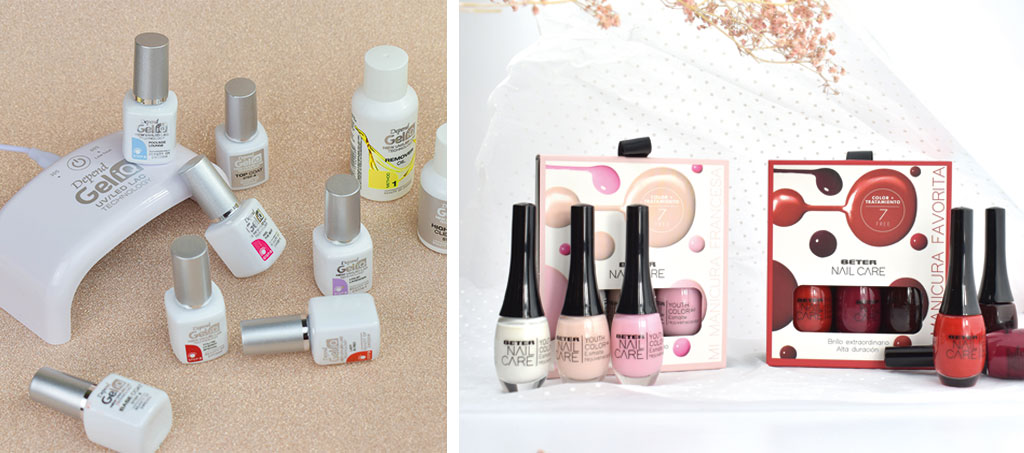 For those mums who are addicted to a good manicure and/or pedicure, we have the perfect suggestion:
The Gel iQ Start Kit, an ideal set to do a good semi-permanent manicure and/or pedicure at home with an impeccable result that lasts more than two weeks. This set consists of: LED/UV lamp, Base Coat, Top Coat, Pre-Cleanser, High Shine Cleanser, a nail file and an orange stick. You only have to choose the colour! Thanks to this kit, your mum (or even you, if you borrow it) will have a semi-permanent manicure in a matter of minutes.
The main advantage of the Gel IQ range is that it does not damage the nails or cuticles. This range is free of HEMA and Di-HEMA, which means an improved nail polish formula, made with gentler raw materials that minimize the risk of allergies and irritations. They are easy to remove with any of the two remover systems in the range (vegetable or traditional oil), sold separately.
Another perfect gift for mums who are unconditional fans of manicures are the My Favorite Manicure and French Manicure Sets from the vegan range of Youth Color Beter Nail Care rejuvenating nail polishes. These are two kits designed with a selection of three #top-selling shades (treatment and colour in one), one in shades of red and the other in porcelain. They provide the nails with an extraordinary and long-lasting shine.
Does your mother love makeup? Take a look at our brush kits:

We offer you the Professional Make up Brush Blanket, the perfect set for people who travel often or who like to always have everything at hand and well organised. The kit barely takes up space and includes six brushes to create all kinds of looks.
Another option that she is bound to love is the Beter Elite Roll-up Case, it includes six brushes from the range (our Premium line of beauty accessories). All the brushes in this set are made with synthetic hair and taklon fibres that enhance the function of makeup and provide optimal application. Like the previous kit, it is perfect to take on the go.
At Beter, we care that our products and production, logistics and packaging processes are as environmentally friendly as possible. For this reason, we prioritize the reduction of plastic as much as possible and promote the use of sustainable materials and the search for biodegradable/sustainable components or those that give a second life to materials already used for the development of new product ranges.
So, for those mums who, in addition to being fans of beauty, are also fans of green beauty, we suggest the following options: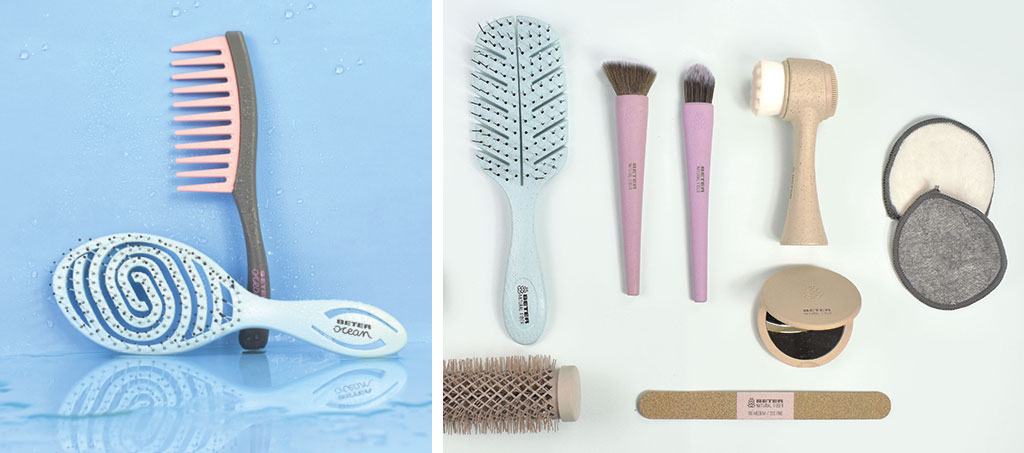 Ocean is the name of our hairbrush made with recycled plastic from the sea that untangles hair without tugging or frizz. It is made from plastic that comes from the recycling of fishing nets through a process that guarantees maximum hygiene. The pack has been made of PET: 100% recyclable, light and resistant material. As well as being sustainable, Ocean has an innovative ergonomic design that allows you to untangle and dry your hair easily and quickly. Ocean glides smoothly and doesn't tug your hair thanks to the flexibility of its bristles and the curved shape of the brush, which adapts to the contours of the head.
Finally, our Natural Fiber range, made up of make-up accessories, facial cleansing accessories and hairbrushes made with materials derived from wheat fibres, with the maximum reduction of plastic. Within this range, we propose the set of makeup brushes that, in addition to being sustainable, have been awarded the prestigious Telva Belleza Award, in the Best Product category. You may also like the leaf-shaped Natural Fiber Detangling Brush, one of our bestsellers.
Which gift suits your mum best? We are sure that, whatever you choose, she will love it just because you gave it to her J.
Happy Mother's Day :)