1936
Industrias Beter is born in 1936, fruit of work by the enterprising Rojo brothers who start the family business manufacturing metal accessories in Vilafranca del Penedès, Catalonia.
Factory in Vilafranca del Penedès. Image:BETER Mano Negra razor blades, metal razor blade box.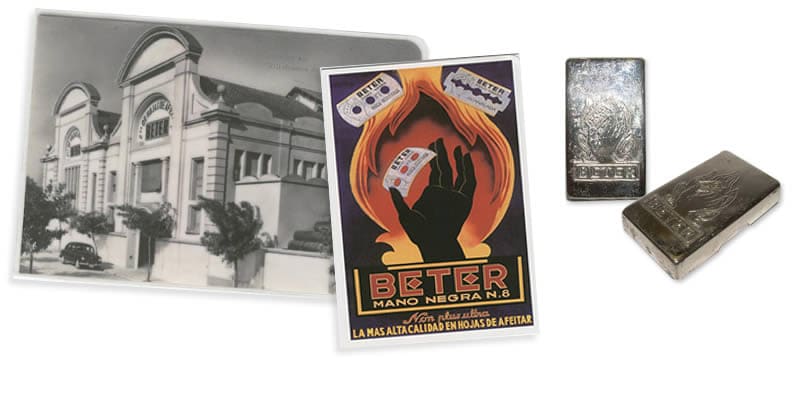 1940
The decade begins and so does the production of the first Beter razor bladesthat will go on to become very popular,especially through original press advertisements.
Original designs of the first blades,press advertisements,blade packaging machine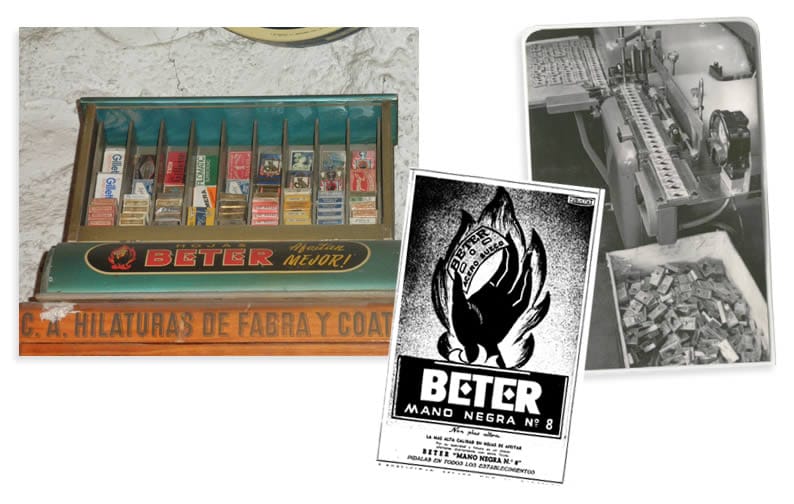 1950
The company throws itself into the manufacture of razor blades with different brands:KIRA,MANO NEGRA,FLOR DE LIS and their sale in drugstores through a wide network of sales representatives.
Press ads from that decade
.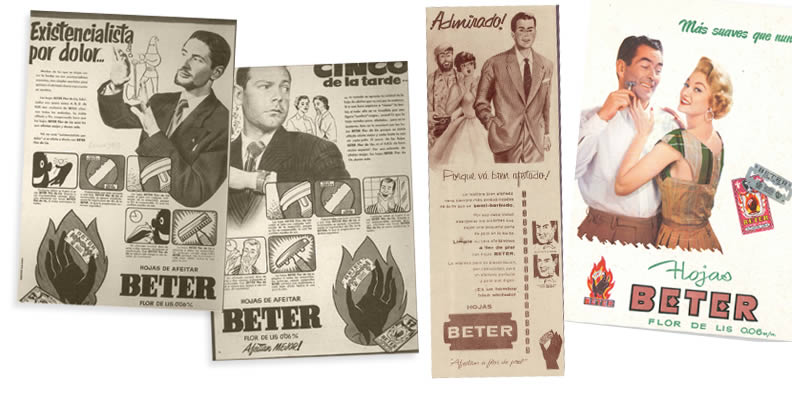 1960
Beter supplements the sale of its razor blades withother personal care products,focused primarily on the male sector of the market:razors,knives,scissors, nail clippers,travel kits and other manicure items.
Press ads,full shaving range,different packs of razor blades.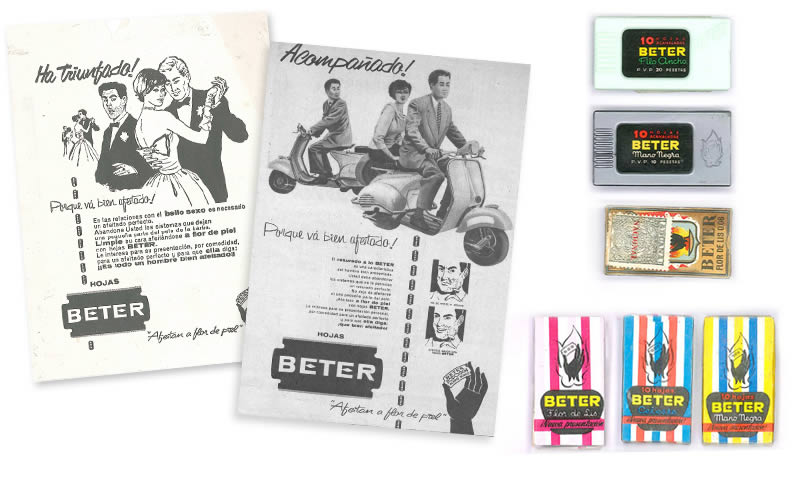 1970
In this decade, the brand focuses on a range of personal care accessoriesfor women:manicure,eyelash curlers,besides the classic shaving items and other household products.
The company acquiresthe first packaging machine for skin-packing which will make the brand more visible at sales points.
Press ads of the decade, image of display units and packaging.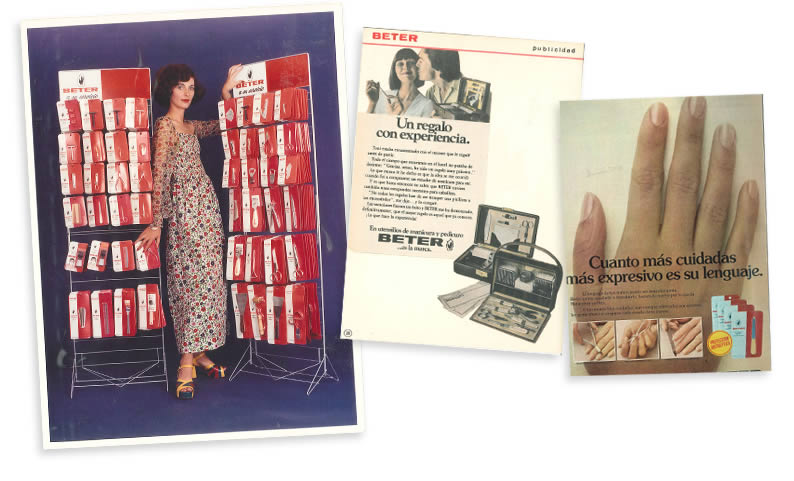 1980
Now a specialist,Beter branches out with the Blue rangeexclusively in pharmacies.
Furthermore, advertising highlights the different ranges for beauty care (pink range),pharmacy(blue range) and industrial(red range).
Press ads and advertising leaflets.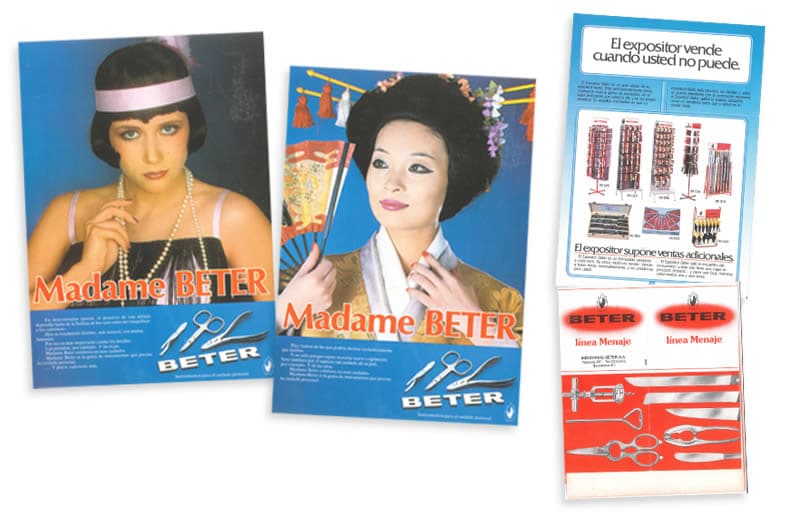 1990
This is the decade when the company expands and consolidatesits product range:as well as manicure and pedicure accessories, it incorporates brushes and hair accessories, makeup accessories,gift boxes and toiletries.The black tweezersbecomeleaderin sales in all distribution channels.
The evolution of the range is accompanied by large investments in logistics,blister packaging machines and display systems that become increasingly important.
Press advertisements, images of the manufacture of tweezers, packaging and factory.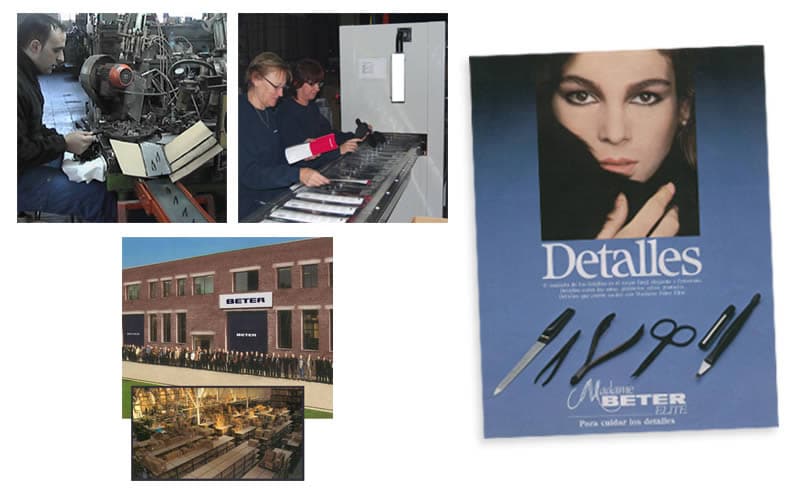 2000
The constant innovation taking place in the company makes us the best specialists in beauty accessories.
The BETER ELITEbrand is born, the first select range of beauty accessories.
The company opens itsexport department.
In 2004 the"BETER hands awards" are created, seeking not only to rewardthe physical beauty of hands, but also the beauty of work well done, creative work and enthusiasm.The awards are given to JoseToledo, Josep Font, Ramón Freixa and Mercedes Salisachs.
Press advertisements,images of the manufacture of tweezers, packaging and factory.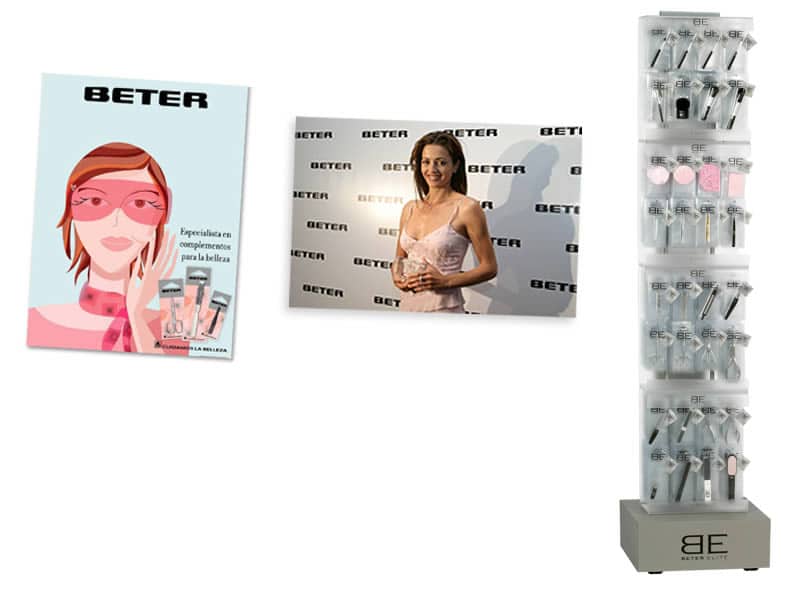 2005
In 2005 the new brand Llongueras by Beter is born.Under the slogan "Beauty with style" a complete range is developed along with an optimistic and innovative advertising campaign.
The Hands Awardsare given for the good work of professionals of different areas who, with their own hands, create beauty: Pastora Vega, Luis Llongueras,Andrés Velencoso, Toton Comella, Luis Doreste, Estrella Moriente, Rosa Clará, Inma Shara, Ailanto and Javier Condewere our winners.
Furthermore, Beter gets involved in fashion at the Gaudí Catwalk, and presents BETER ELITE and its complete range of cosmetic treatments for hands and feet, offering a backstage manicure session.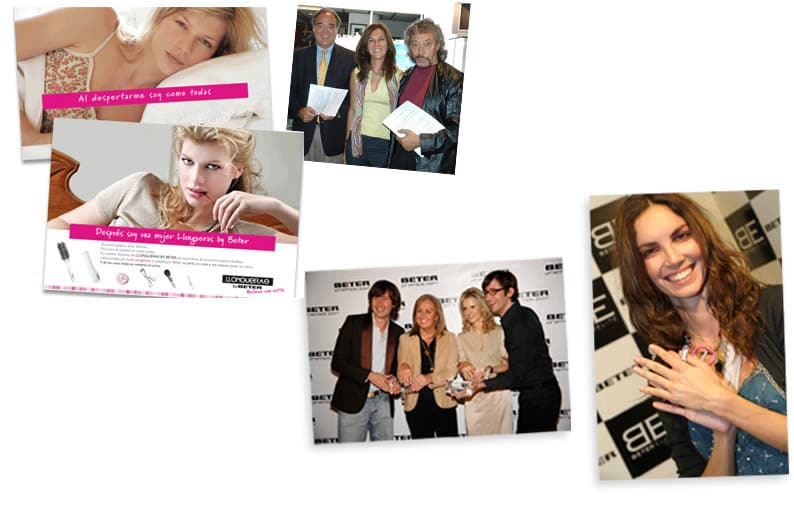 2010
Our"Pinzette"is a finalist for theVogue Innovation Award.
Our site changes its image and content.New design, more interactive, new sections and a renovated club full of advantages for members:exclusive promotions, contests, giveaways, tips and advice, beauty videos.
We open our profile onFacebook
Launch of themost upbeat and attractive range:VIVA, luxury accessories with a "cheap and chic" spirit.
Our 75th birthday as a company - celebrated with the whole team.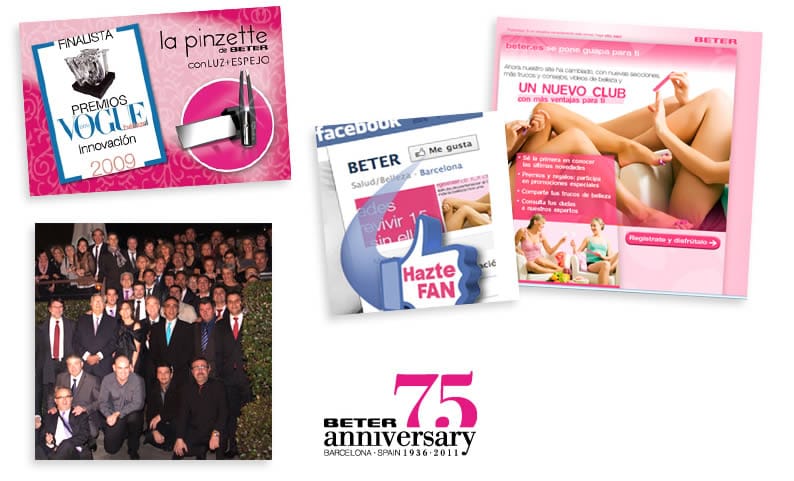 2015
In April 2014, we moved our headquarters to a new more spacious office in Barcelona: C/Aribau 200 - 7ª Planta - 08036 Barcelona (Spain).
Continued success of the Depend GelLack permanent home manicure. Our collaboration withDepend allows us to offer a range of nail polishes that adapts to different needs: Depend O2, polishes that allow the nails to breath and Depend 7 Day, a hybrid system that provides the appearance of a gel manicure for a week without need for a LED lamp.
International presence in 29 countries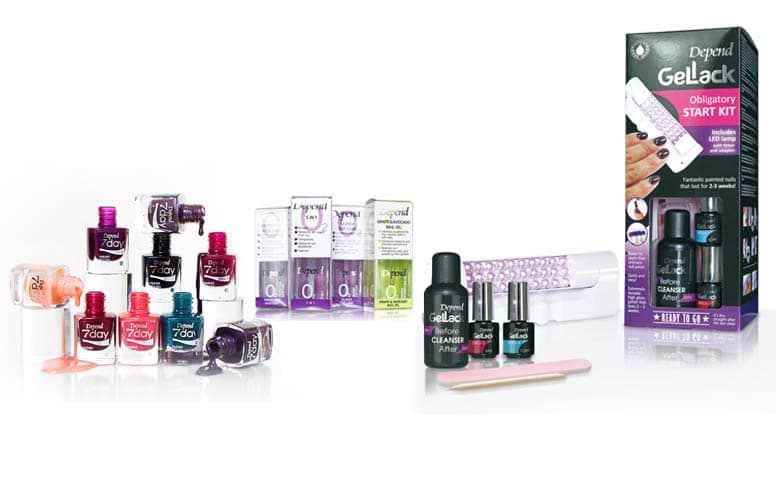 2015
In April 2014, we moved our headquarters to a new more spacious office in Barcelona: C/Aribau 200 - 7ª Planta - 08036 Barcelona (Spain).
New website adapted to all types of devices (tablets, smartphones…), designed to offer clients maximum information about our products and related content, such as tutorials and infographics.
We celebrate our 80th anniversary with a limited edition of the genuine pair of "black" Beter tweezers. We present a video tutorial that gives the keys to eyebrow shaping for women and men, with the help of the makeup artist Olga Pastukhova, with all the professional tips for eyebrow makeup.
We expand the cosmetic range Beter Look Expert with the new Facial Skin Care selection. A success in pharmacies thanks to its innovative features: paraben-free formulas, high hypoallergenic tolerance, comfortable textures and formats and precise applicators.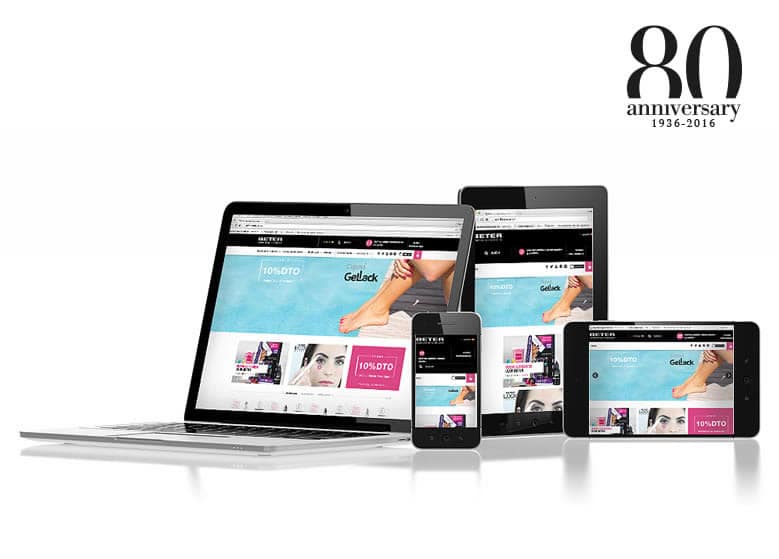 2019
We are launching an advertising campaign in the main beauty and fashion online and offline media. Our creative solution consists of the image of three consumers who trust in Beter, each one with its own style and personality, who share and enjoy moments of personal care in an atmosphere of complicity.
Our new logistics space located in Martorell: 6,200 m2 for definitive conditioning, quality control and final distribution of more than 1000 references of the company's catalog.
Launch of Mimetik by Beter: the new liquid dressing to protect and seal small skin lesions. It is an adhesive tissue that after application becomes a flexible, breathable and 100% waterproof protective layer that seals the affected area by creating a second "artificial skin". An ideal alternative to conventional plastic wound dressings.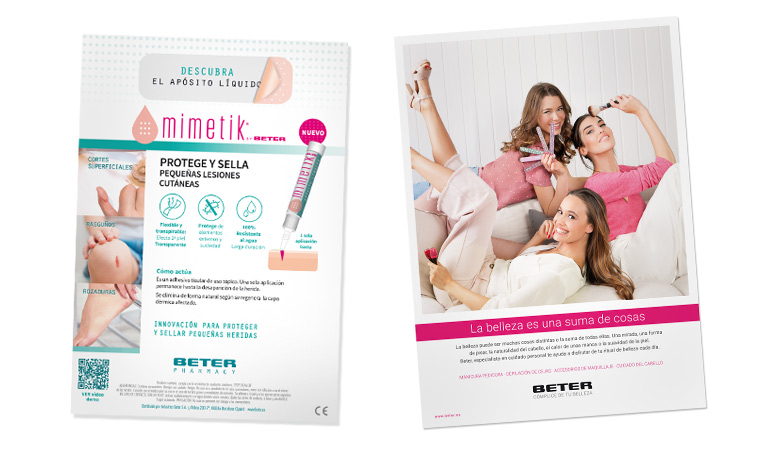 PRESENT
Commitment to the environment
Sustainability and respect for the environment are key both in the design of our products and their packaging and in our management of logistics. That is why we have taken action to help care for the environment: minimising the presence of plastic, using sustainable materials, seeking out biodegradable components for the creation of new ranges, and facilitating easy recycling and the reduction of resources in our activity.
New packaging for the Beauty Care range: the blister pack has been replaced by a 100% FSC certified cardboard pack.
Natural Fiber: range of makeup and personal care accessories made with biodegradable materials using wheat fibre, also with packaging made of FSC certified cardboard.
Telva beauty award
The Natural Fiber collection of makeup brushes has been awarded in the category of Best Product chosen by Telva.com users.
Beter Look Expert: makeup you can rely on
We present the new look of the most comfortable, easy-to-use and attractive makeup range. An evolution that combines its modern style with the specific needs of pharmaceutical stores:
A more refined, personal and natural image
Comfortable textures and innovative formulas adapted for sensitive skin
Team innovation
Mr.Wonderful & Beter: a collaboration that brings together the unmistakable design of Mr. Wonderful and the experience and quality of Beter to create the coolest range of personal care accessories.
Haan Pocket, the new generation of hand sanitisers: spray format in an original extra-flat container that is soft to the touch. The formula eliminates 99.9% of viruses and bacteria whilst also moisturising your hands. 20% of Haan's profits go to fostering sustainable projects, dedicated to providing clean community-owned water in developing countries.
Collaboration with Gavi The Vaccine Alliance
Making donations for childhood vaccination in developing countries. It is a solidarity initiative through the Business Alliance, with the objective of reducing infant mortality and protecting the health of the community by increasing access to immunisation in poor countries.