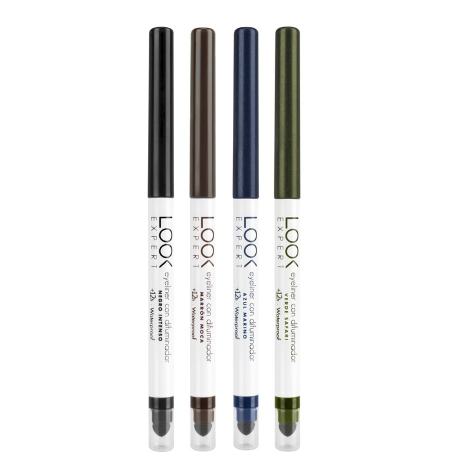 View larger
More info
To outline the eye, follow the lashline from the inside of the eye outwards.
Draw a fine line, gradually widening it towards the outer corner of the eye.
And for a Smokey effect, apply the product along the lashline and smudge away from the centre of the eye, as if it were an eye shadow. Smudging will be easier if you use the latex sponge at the end.
Ingredientes
BLACK INGREDIENTES: CYCLOPENTASILOXANE ;IRON OXIDES (CI 77499);SYNTHETIC BEESWAX MICROCRYSTALLINE WAX / CERA MICROCRISTALLINA;TRIMETHYLSILOXYSILICATE;MICA;FERRIC AMMONIUM FERROCYANIDE (CI 77510) ; VP/HEXADECENE COPOLYMER ;MYRISTYL LACTATE; MYRISTYL LACTATE ;C30-45 ALKYL CETEARYL DIMETHICONE CROSSPOLYMER;MYRISTYL ALCOHOL ;TOCOPHERYL ACETATE;TOCOPHEROL; LECITHIN ; ASCORBYL PALMITATE;GLYCERYL STEARATE ;MAGNESIUM SILICATE;GLYCERYL OLEATE ; CITRIC ACID BROWNIE INGREDIENTES:CYCLOPENTASILOXANE ;SYNTHETIC BEESWAX ;MICA;IRON OXIDES (CI 77499);MICROCRYSTALLINE WAX / CERA ICROCRISTALLINATRIMETHYLSILOXYSILICATE;IRON OXIDES (CI 77491);VP/HEXADECENE COPOLYMER;MYRISTYL LACTATE ;TITANIUM DIOXIDE (CI 77891) ;IRON OXIDES (CI 77492) ;IRON OXIDES (CI 77492) ; C30-45 ALKYL CETEARYL DIMETHICONE CROSSPOLYMER ;MYRISTYL ALCOHOL;TOCOPHERYL ACETATE;TOCOPHEROL ; LECITHIN ; ASCORBYL PALMITATE ;GLYCERYL STEARATE ;MAGNESIUM SILICATE;GLYCERYL OLEATE ;CITRIC ACID OCEAN BLUE INGREDIENTES: CYCLOPENTASILOXANE;SYNTHETIC BEESWAX ; TITANIUM DIOXIDE (CI 77891) ; MICA MICROCRYSTALLINE WAX / CERA MICROCRISTALLINA;TRIMETHYLSILOXYSILICATE ; IRON OXIDES (CI 77499) ; VP/HEXADECENE COPOLYMER;MYRISTYL LACTATE;FERRIC FERROCYANIDE (CI 77510) ;FERRIC FERROCYANIDE (CI 77510) ; C30-45 ALKYL CETEARYL DIMETHICONE CROSSPOLYMER;MYRISTYL ALCOHOL ;TIN OXIDE ;TOCOPHEROL; LECITHIN ; ASCORBYL PALMITATE ; GLYCERYL STEARATE ; MAGNESIUM SILICATE; GLYCERYL OLEATE ; CITRIC ACID GREEN INGREDIENTES: CYCLOPENTASILOXANE ;SYNTHETIC BEESWAX;TITANIUM DIOXIDE (CI 77891);MICA; MICROCRYSTALLINE WAX / CERA MICROCRISTALLINA; TRIMETHYLSILOXYSILICATEIRON OXIDES (CI 77499) ; VP/HEXADECENE COPOLYMER ; IRON OXIDES (CI 77491) ; MYRISTYL LACTATE ; FERRIC FERROCYANIDE (CI 77510) ; IRON OXIDES (CI 77492) ; IRON OXIDES (CI 77492) ; C30-45 ALKYL CETEARYL DIMETHICONE CROSSPOLYMER ; MYRISTYL ALCOHOL ; TIN OXIDE ;TOCOPHEROL;LECITHIN ; ASCORBYL PALMITATE ; GLYCERYL STEARATE ; MAGNESIUM SILICATE; GLYCERYL OLEATE ; CITRIC ACID