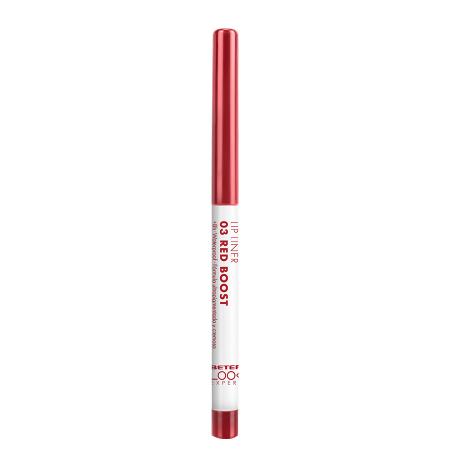 View larger
Look Expert Lip Liner 03 Red Boost
The secret of perfectly defined lips
Creamy formula that glides on the skin: Its gel texture makes the application much easier. Highly pigmented : intense colours for the greatest definition. Waterproof. + 8h lasting. Dermatologically tested. Retractable.
Warning: Last items in stock!
Availability date:
More info
- +8h lasting: Long lasting matt finish, helps the lipstick stay longer.
- Waterproof formula: Water-resistant, perfectly defined lips for all day long.
- Dermatologically tested. Parabens and D5 free.
- Retractable packaging that allows to protect the lip liner tip.
- Perfect match with Look Expert's lipsticks

To define/contour: Beter lip liners help to naturally emphasize, even alter, the mouth shape (for example softening a cupid's bow making it rounder). It can also add volume to the lips drawing the line slightly out of their edge and fill them up with a lipstick of the same shade.
Natural finish: Using the most similar shade to the lips natural colour and applying lip gloss after (or just using the lip liner to define the lips).
Beter lip liners can be used as eyeliners for more artistic looks.