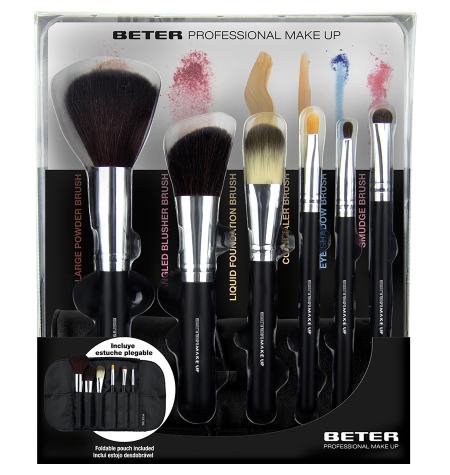 View larger
More info
LARGE POWDER BRUSH, GOAT HAIR: Dome shaped, ideal for all kinds of powders: pressed, loose or bronzers.
ANGLED BLUSHER BRUSH, GOAT HAIR: The slanted shape contours with cheekbones perfectly, making blusher easy to apply.
LIQUID FOUNDATION BRUSH, SYNTHETIC HAIR: Ideal for the perfect, smooth finish with liquid foundations, face masks or emollient treatments.
CONCEALER BRUSH, SYNTHETIC HAIR: Its flexible hair is suitable for applying concealer on dark circles or any imperfections.
SMALL EYE SHADOW BRUSH, PONY HAIR: For precise application of eye shadow along the eyelash line.
SMUDGE BRUSH, PONY HAIR: The short, rounded shape makes it easy to apply and blend eye shadows on the eyelid and highlight the arch of the eyebrow.