Nails, like our skin and hair, age as time goes by. Aspects such as food, the type of manicure treatments we use, not giving them a little respite between one polish and another or the simple fact of removing nail polish with a polish remover with acetone can cause them to age more quickly. How do we know that our nails are not 100% ok? They look drier, dull and yellow, but perhaps the most obvious sign that they need help is that they are brittle, layered, and break easily.
Luckily, there are solutions on the market that help us regain the health of our nails without having to give up manicures and enjoying nail polish. One of these solutions is Beter Nail Care's Youth Color line of rejuvenating polishes.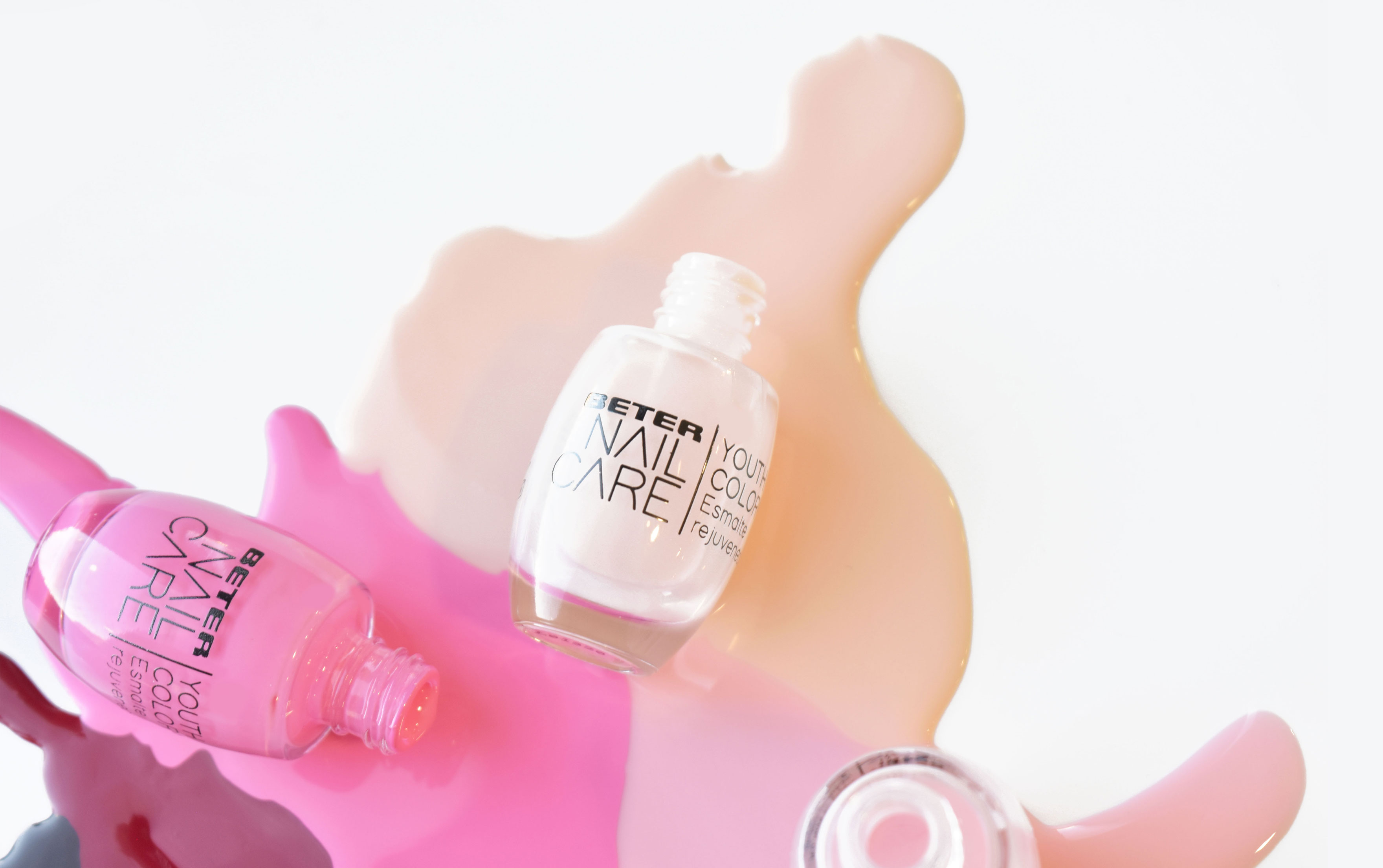 Why do the Youth Color polishes by Beter Nail Care improve nail health?
Because they include treatment: Its Pro-Age Complex formula, with hyaluronic acid with an anti-aging effect, vitamin C, with high antioxidant power, and photo-reactive plankton, which protects the nails, penetrates the keratin, helping them to look stronger and smoother after each application. The possibility of treating your nails at the same time that you apply polish is an ideal solution. Another advantage is the fact that it is quicker than a traditional manicure, since with Youth Color nail polishes there is no need for a base coat.
Beter Nail Care Youth Color polishes have other advantages: they offer great coverage and durability and include a UV filter. The range is made up of ten colours ranging from Beige French Manicure to Rouge Noir, as well as the brightest red, Almost Red Light. Ten super wearable and timeless shades, regardless of the season. At the same time, twice a year, coinciding with the autumn-winter season and the spring-summer season, the range is complemented by a limited-edition collection made up of four trendy shades.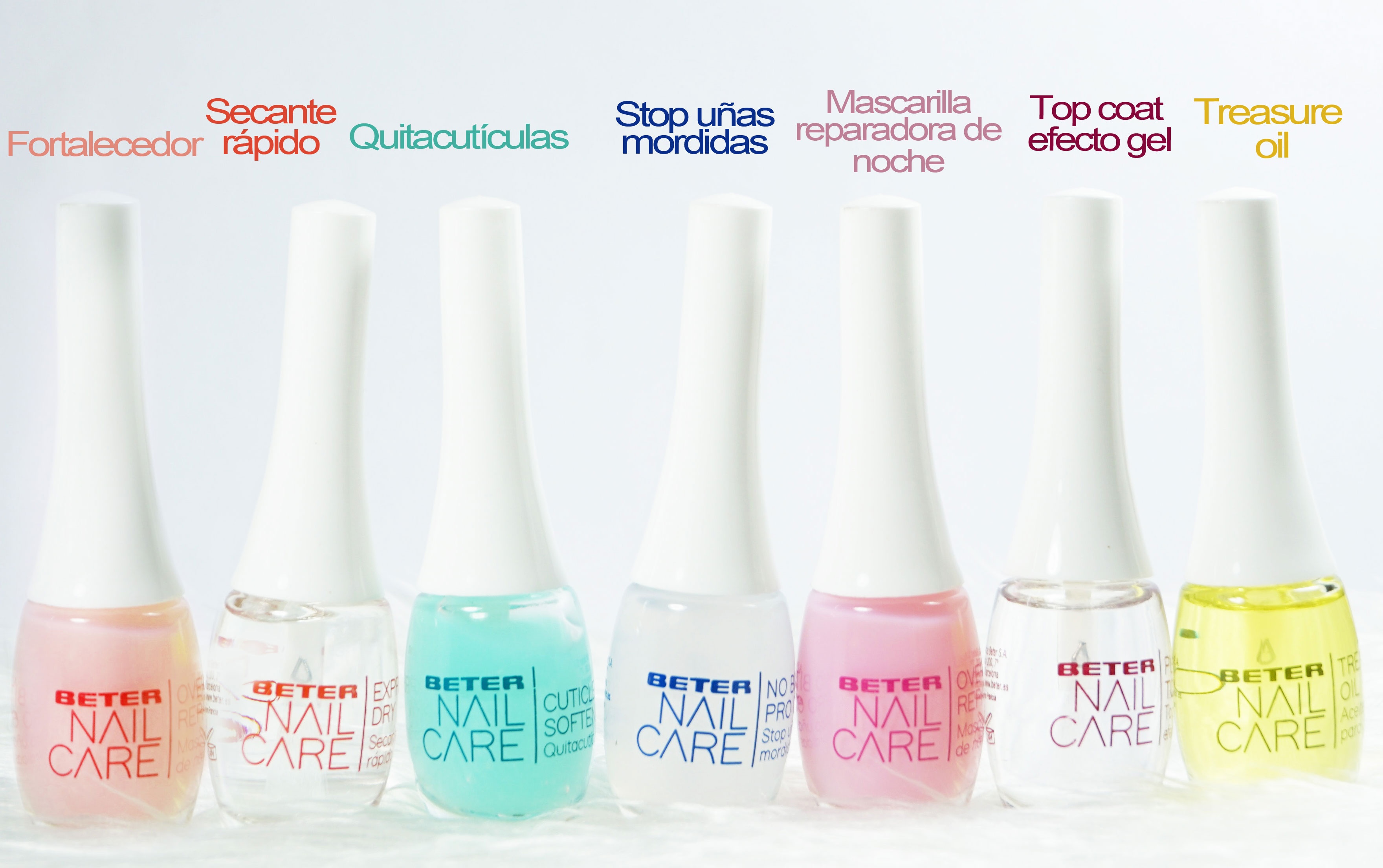 Experts in nail care
At Beter we know a lot about manicures and pedicures, boasting more than 85 years of experience in personal care. For this reason, when launching the Nail Care range, four specific products for treatment were included, and this range, as its name suggests, is specialised in nail care:


- Strength Infusion, with arginine, tea tree and Hexanal* that penetrates nail keratin and reduces flaking, for stronger, shinier and smoother nails.
- Overnight repair mask, night action, with 3% vitamin B5, wheat protein and aloe vera, it has extraordinary moisturizing properties. Remove in the morning after use with warm water and a nail brush.
- Treasure Oil (almond oil for nails and cuticles), practically pure, it nourishes and hydrates in depth, for shiny, healthy and flexible nails and smooth cuticles.
- No Bite Pro Growth, a product designed for those who want to stop biting their nails, it not only has a bitter taste, but also stimulates healthy growth thanks to its components: vitamins A, C and E, calcium and seaweed extract.
The range is completed by four more products focused on the manicure process itself with ingredients that promote nail health:
- Ridge Vanisher Base, regular use strengthens the nails fighting the creation of ridges.
- Cuticle Softener, moisturizes cuticles, especially the driest ones, and provides a clean and defined nail contour.
-Plumping Top Coat, gel effect, provides shine and volume instantly. With UV filter.
- Express Dry, reduces the drying time of the polish while protecting the nail surface.
All the products in the Nail Care range are 7free (free of toluene, DBP, formaldehyde, formaldehyde resin, camphor, parabens and xylene) and vegan, except for the night mask. T