Steps to always have strong, healthy and beautiful nails
Do your nails break easily, split open by layers and feel brittle? Here you are several tips to help them recover their strength, shine and natural shape. In a few weeks, you will start to notice the difference.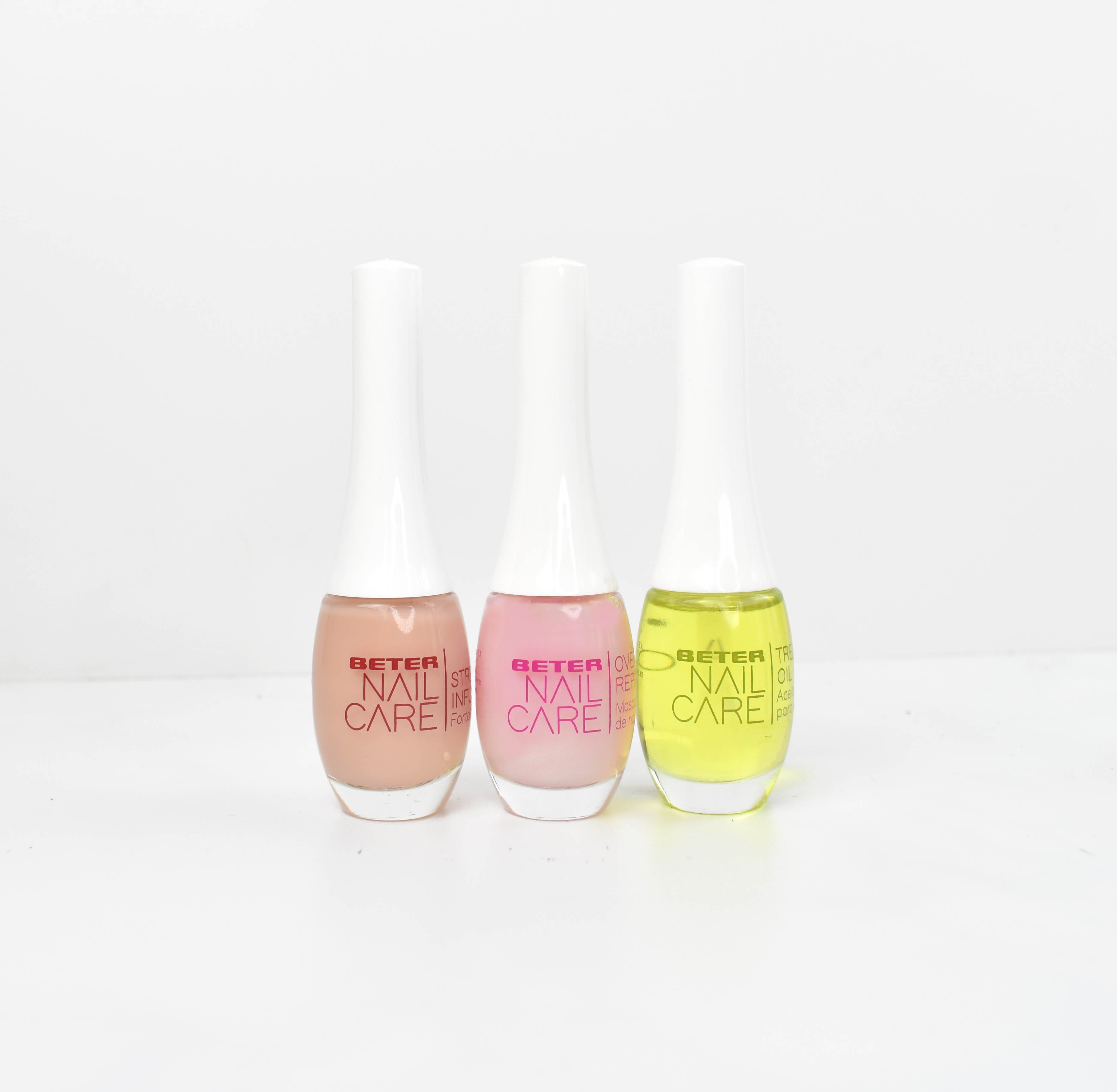 1.- Choose good tools for your manicure
A quality pair of pliers, nail clippers, file or scissors is noticeable in the result, in the type of cut, clean and precise, that does not strip the nails. At Beter we have been dedicated to personal care for more than 85 years and we know the importance of choosing good tools with which to perform a manicure or pedicure at home. Products that, if well cared for, in addition to providing a professional result, can last for many years. The health of your nails will notice. For all these reasons, we think it is worth investing in a good kit.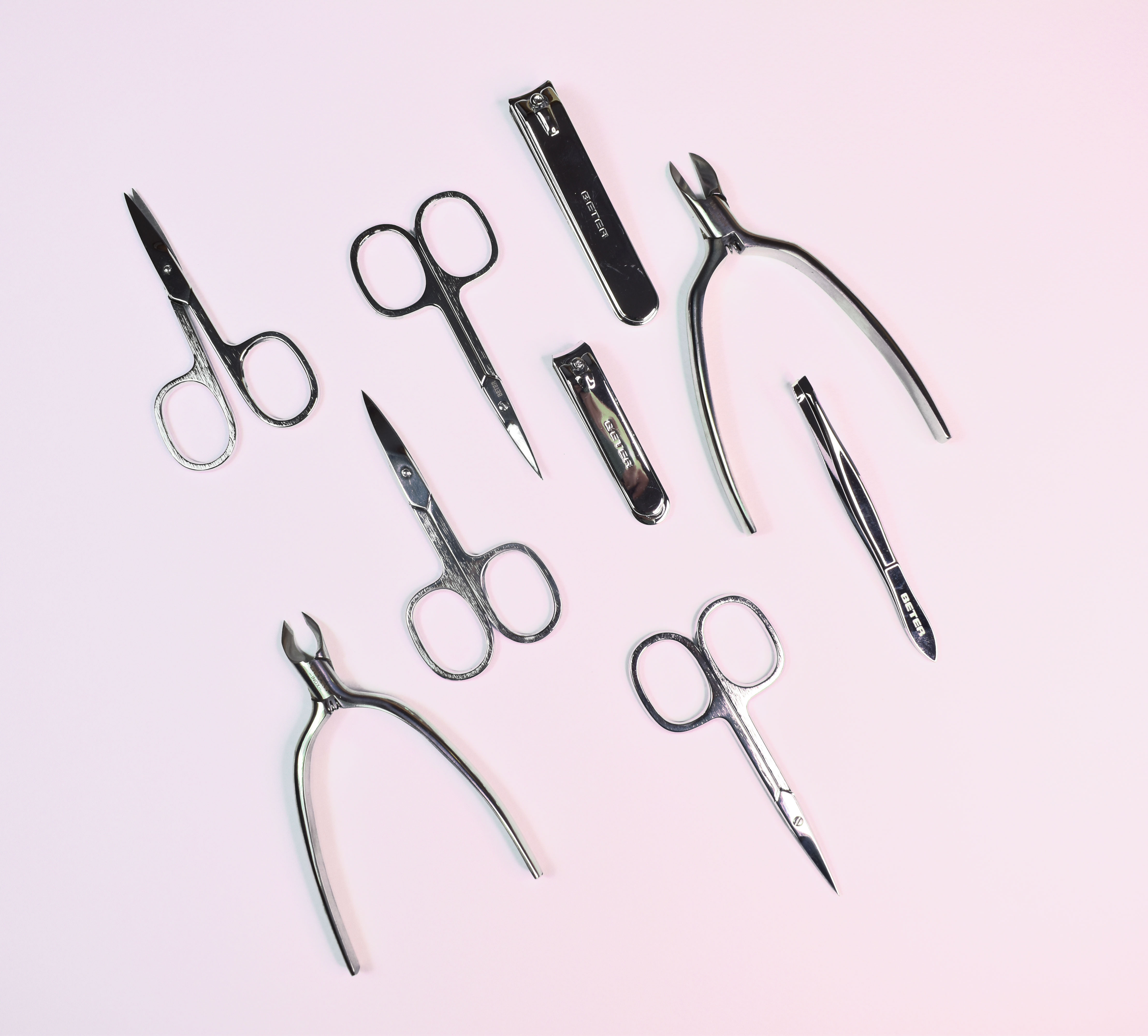 2.- If your nails are weak, file them, do not cut them
The world of nail files has a lot to offer, they come in different grits and are made with different materials depending on your needs. So, if your nails are thin, instead of cutting them, we recommend that you use a tempered glass file such as the Secret file, for example. Tempered glass is light and highly resistant, provides an extremely delicate filing and prevents splintering. It is not for nothing that the use of files made of this material is recommended for babies and newborns.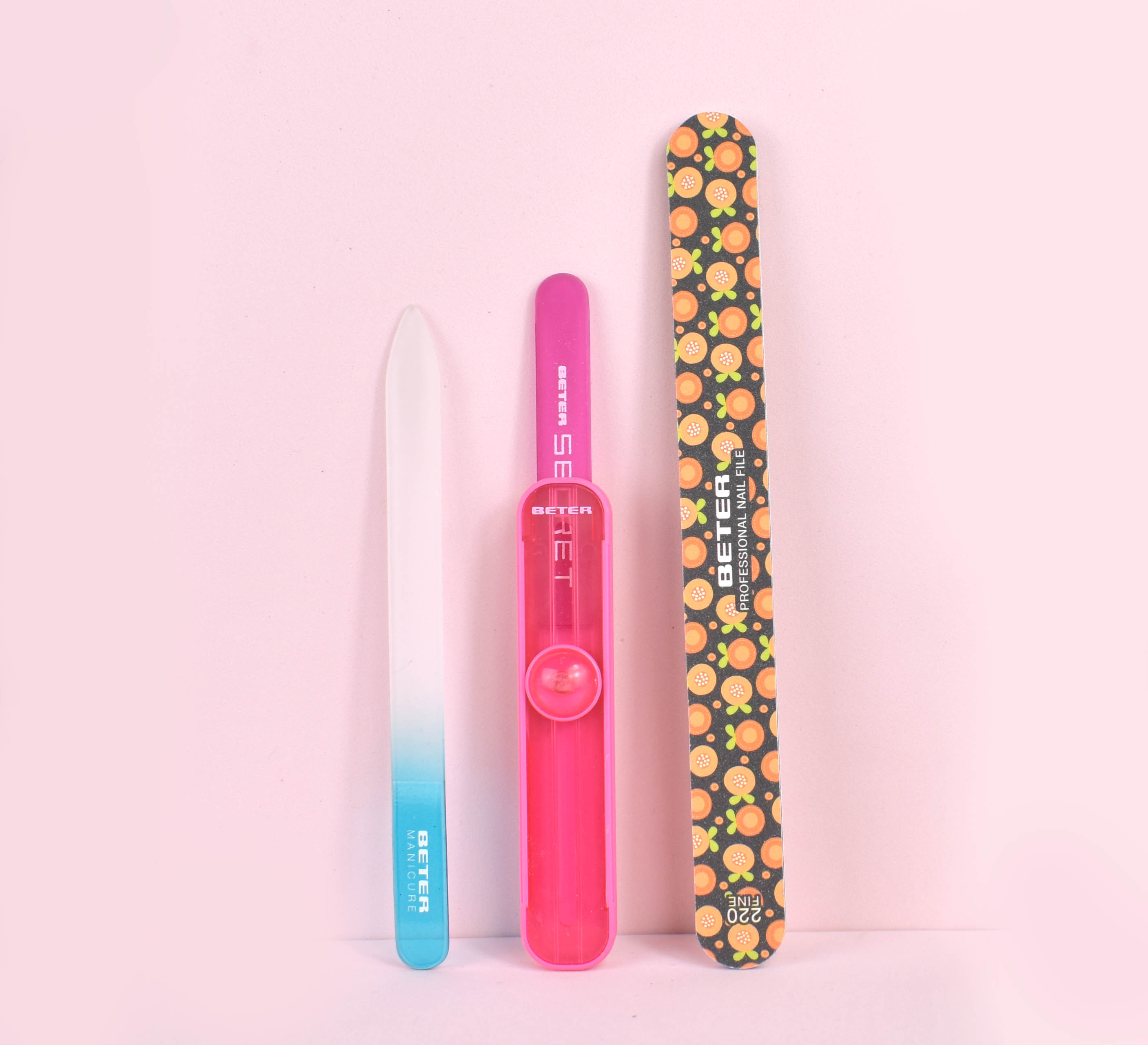 3.- Choose carefully the method to remove make-up
Sometimes it is not so much the type of nail polish used to perform the manicure as the product (and especially its composition) chosen to remove it. Avoid using acetone whenever you can, since it weakens the nails and dries them out. After all, it is a solvent. We recommend a product that, in addition to not containing acetone, is vegan and has a mask effect that, when you remove the remains of nail polish, makes your nails and cuticles look beautiful and shiny thanks to its composition (with more than 10% vegetable oils -castor, sweet almonds...) This is the Beter Nail Care Cream Nail Polish Remover, an example of innovation and sustainability that, when combined with nail polish remover wipes, avoids the generation of waste by reducing the use of cotton pads.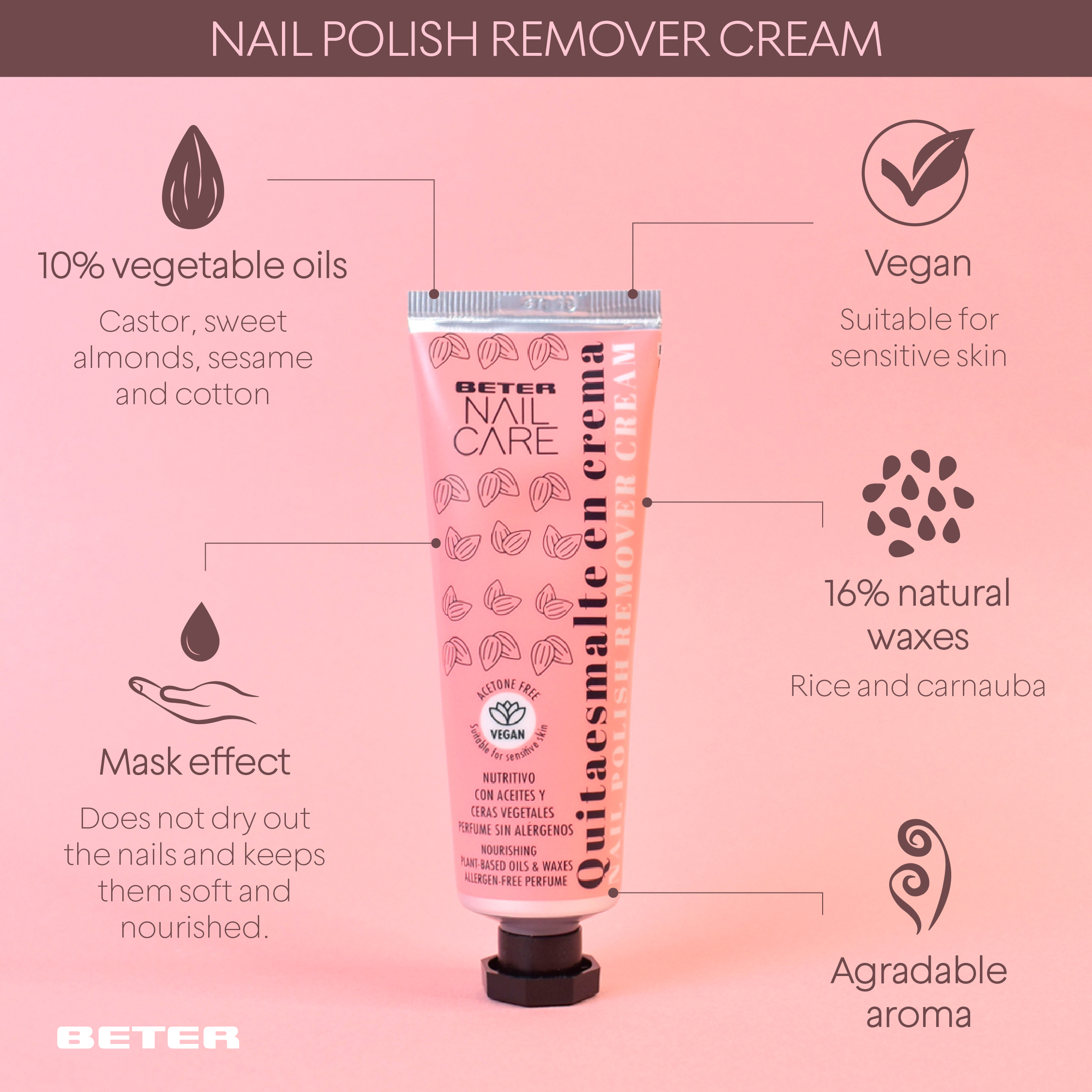 4.- Space your manicures and use a nail strengthener between them
At Beter, we always recommend leaving a few days between manicures to give your nails time to oxygenate and recover their natural hydration. There are different types of nail polish on the market: vegan ones such as the Youth Color by Beter Nail Care nail polishes, which include treatment at the same time (hyaluronic acid and vitamin C), nail polishes made with natural materials such as Natural Manicure, and semi-permanent nail polishes such as GeliQ!, the latter with an improved formula that is more respectful with the nails. These are just three examples, but whatever option you choose, remove make-up thoroughly from your nails when you think it's time to remove the polish depending on its duration, and let them rest so that they can gradually get back into shape.
If, when removing your nail polish, you notice that your nails are weaker, thinner, laminate or break easily or if you have used a semi-permanent polish, the ideal thing in this rest period would be to apply a strengthener such as Strength Infusion by Beter Nail Care, with a high content of arginine, tea tree oil and Hexanal that penetrates the keratin of the nails and reduces microlamination. You will see results in a few days. Also, if you apply two coats, it will look like you have a porcelain manicure done. This strengthener also prevents discoloration and yellowing.
Another option would be a shock treatment, the Overnight repair mask, which restores the natural hydration of the nails. Its overnight action creates a layer that repairs and invigorates the nails. Its formula contains 3% vitamin B5, wheat protein and aloe vera, with moisturizing properties and a non-greasy texture. It is applied before going to bed and removed in the morning with warm water.
5.- Hydration
Nails, like any part of our body, require hydration. You can do this with olive oil, jojoba oil or almond oil, such as Treasure Oil by Beter Nail Care, which nourishes and hydrates in depth. This type of hydration works very well both for your nails, which will look less dry and more beautiful from day one, and also for your cuticles, which, as you know, are those little pieces of skin that surround your nails. You will quickly notice softer cuticles and shiny, healthy and flexible nails.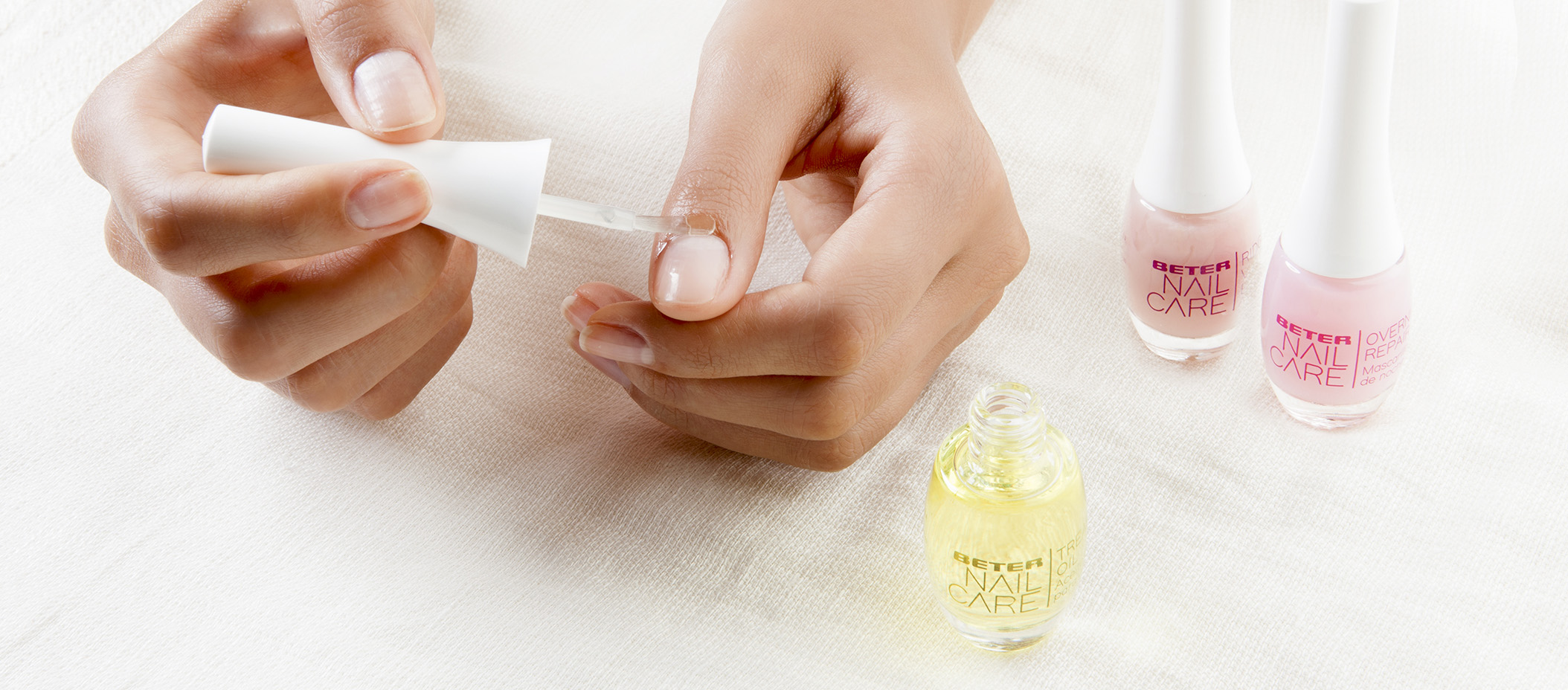 In this video we show you how to apply it, do not forget to massage your nails and cuticles for a few seconds to help the product integrate well.
We hope that, with these tips, your nails will regain their natural strength and shine.