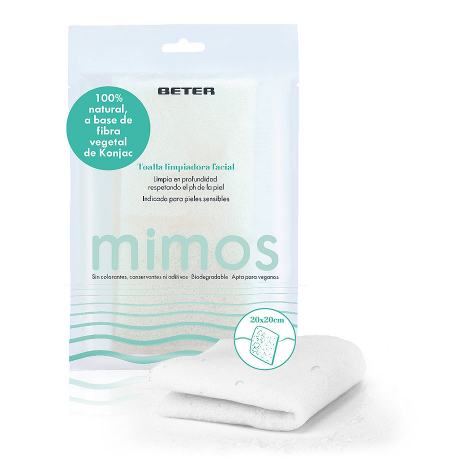 View larger
More info
Simply moisten with water to clean your face, remove makeup or facial masks. Suitable for all skin types especially for delicate, atopic, oily or acne prone skin.

- No artificial colours, preservatives or additives
- Biodegradable
- Suitable for vegans
- Size: 20x20cm
Softer, more radiant skin
It gently exfoliates, removing dead skin cells. Regular use prevents clogging of the pores and the dull appearance of skin. It naturally stimulates blood circulation and cell regeneration thanks to the gentle massage.
No need for a cleanser
It works perfectly just with water but if you want to use a cleanser or makeup remover, a small amount is enough.
How to use
1- Moisten the towel and remove excess water before use. 2- Give a circular face and neck massage. You can use it with your usual cleanser / makeup remover product if you wish, but it is not essential. Rinse it in plenty of water and wring well. 3- Store in a well ventilated area to make it last longer. When completely dry it hardens: for reuse you just have to wet it and it will regain its soft texture. Contains a hanging suction cup. We recommend changing the towel every 2 to 3 months