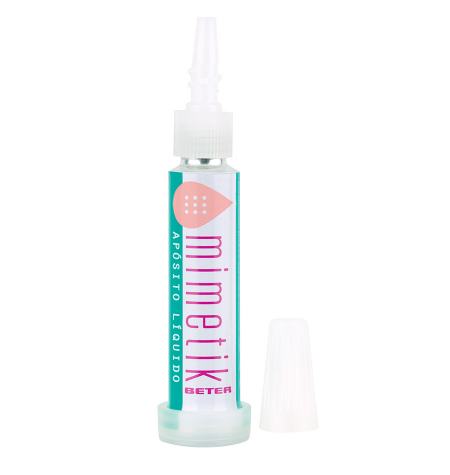 View larger
More info
Transparent
Protects from external elements and dirt
100% water resistant
Long duration
Directions
Prior to application: Clean the affected area carefully and dry. Do not apply any type of cream or lotion before or after using the product.

. Screw the tap cap until the end to open the internal closure.
1- Apply it topically over the wound. For better results apply one a thin layer.

2- Drying time varies between 30 seconds to one minute depending on the quantity applied.

Avoid any contact until the area is dry.

Removal: the product removes naturally by itself according to the regeneration of damaged dermal layer.

Storage: Store in a dry, cool place, keep it vertical with the cap up.

Maintenance: The adhesive is liquid. Please throw away in case of drying



WARNINGS
It contains Cyanoacrylate Use with caution.
Do not use around the eyes, on infected areas or draining wounds. Ask your doctor before you use it for severe wounds, animal bites or serious burns. It dries quick on skin and eyes.
IF CONTACTED WITH THE EYES:
Rinse cautiously with water for some minutes. In case of wearing lenses, first carefully remove them if possible and then proceed with rinsing
SPECIAL PRECAUTIONS: Do not use in case of allergy to cyanoacrylate
KEEP OUT OF CHILDREN'S REACH.